MIME FESTIVAL IN SLOVAKIA - PAN


29th Mime festival in Liptovský Mikulas, Slovakia takes place 23th till 26th November 2022. The programm will be published soon.

Official website: http://festivalpan.sk/2022/
We present ... Bodecker and Neander
Bodecker & Neander have been producing their work for over 10 years, during which time they have captivated audiences and the press in more than 30 countries. Schwerin-born illusionist Wolfram von Bodecker and Paris-born Alexander Neander met whilst studying under Marcel Marceau in Paris. They graduated from his legendary school then toured the world as his stage partners before forming their own company. Their exceptional brand of visual theatre is packed with magic, the finest humour and illusion. 'Mime' is derived from the Greek pantomimus meaning 'imitator of all'. Bodecker & Neander use the term 'visual theatre' to describe their work: Silent theatre brought to life by a deft combination of mime and movement, masque, clownery, slapstick and physical theatre that also integrates elements of film, magic lantern and black box theatre.
No wonder their work ignores the boundaries of theatrical genre. The stories are joyous and enjoyable, thought-provoking and tragic. Mime makes room for the viewer's own interpretations – openings awaken the imagination.
With their visual theatre, Bodecker & Neander carry the audience to the country of their desires, to utopia. Two travellers between these worlds prove to be faithful guides who guarantee all sorts of theatrical, earnest adventure. We meet a world-famous pianist who has much to learn from the man turning the pages of his musical score. A simple music lesson turns into a nightmare. An Asian fairytale shows us a world where death and beauty sit side-by-side. Follow Light was developed using a grant and premiered at Dresden's Societaetstheater. Press reception was rapturous: "… mime at its best. The audience at the premier were so excited they went wild in the interval – clapping and stamping their feet. And again at the end. Justifiably so." (SZ)
Sara Mangano and Pierre Massip
The company Mangano Massip is up to many things. Sara and Pierre are preparing new formula of the Mimesis festival from December 1 to 3 2022. They are presenting their new peace Alice in Wonderland and Les Aimants at the European festivals (e.g. 5 November in Dresden).
Alice in the Wonderbox
>>Le 5 novembre 2022 au International Pantomimetheater Festival ,Dresden
17h TheaterHouse Rudi, Dresden
https://mimedresden.de/
ALICE is a young person under development: her image, her relationship with others, her body, everything is changing, transforming, she is in search of her own bearings. Alice is also an internet addict (like many of her friends) and it is there that she believes she finds escape from reality. But this Wonderbox where she spends her days is even more shifting and unstable than her reality: Avatars, false identities, fake news, etc. Very freely inspired by Lewis Carrol's work, we will meet in this show a laughing and enigmatic Cat, a clumsy and charming White Prince and funny mutant characters. Alice, crossing the mirror/screen of her cell phone, finds herself embarked on a journey of initiation where identity wavers, the real and the virtual merge, the existential questions of all time confronted with the increasingly pressing questions of augmented reality, transhumanism and artificial intelligence.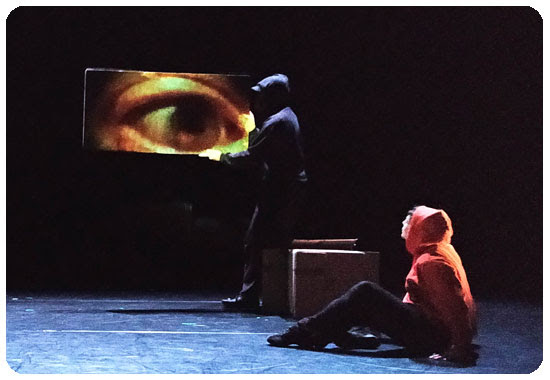 Milan Sládek presenting...
STATIONS OF THE CROSS (KRÍŽOVÁ CESTA): On the occasion of the master's 85th birthday, 25th February at 7 pm in Bratislava.
https://www.ticketportal.sk/event/Milan-Sladek-Krizova-cesta
The Magic Four, 4th November 2022 at 7:30 pm in ECKENHÄÄNER HUUS, Reichshofstraße 30, 51580 Reichshof-Eckenhagen. Tickets: Tel: 02265 – 470, eMail: kurverwaltung@reichshof.de
Pohybs Konsorten presents...
THE PEARL
"Die Perle" (The Pearl), based on a Children's Picture book for family and Children from 4 years on, in which we also use words – not too much, but… We were very happy that we could present the production in Linz (A), because in Germany on that time it wasn't possible to play…)
While playing, the little beaver finds a shell. He looks at her curiously from all sides.
A shell – his heart begins to pound. There's definitely a pearl in there; he found a treasure. And already he sees himself overjoyed as he proudly presents himself to his friends with his pearl. But what will the bear, moose, rabbit and pig say about that?
Biba begins to ponder and his imagination takes him into a story with unexpected twists… -How fortunate it was only a dream.
A parable about friendship and the naïve notion of happiness through wealth and specialness, in an adaptation by the mobile theater duo pohyb`s and konsorten based on the picture book of the same name by Helme Heine.
Playful, dramatic, pictorial, poetic and clownesque. With their physical play, they create figures and situations with simple means, without many words, which, with attention to detail, draw out the special features of the characters and allow the situations to be experienced in their complexity.
—————————————————
The premiere – 4th of march in Linz (A).
Duo Diagonale presents...
Germany based ensemble Duo Diagonal (Deana & Holger Ehrich) has created a new show format: "GlücksMix" (which roughly translates "good luck mix") brings together acts from a wide range of genres, encompassing physical comedy, contemporary circus, music, magic, poetry and stand up comedy. Duo Diagonal not only put the shows together but also appears as hosts. It is currently on tour through six german cities.
The project is supported by a governmental cultural funding from the "Beauftrage der Bundesregierung für Kultur und Medien".
Fem condemns the barbaric war and aggressiv atack against Ukraine very much. We express our full solidarity with all the artists and people of Ukraine. On behalf of all the members  N.-Z. K. * A.H.
Nola Rae and her shows now online for free